IS YOUR PROJECT LOCATED IN THE ZONE?
If you are unsure if your project is located within the Macomb/Bushnell Enterprise Zone boundries, please contact:
Macomb Community Development Office: 309-833-4944
Bushnell City Hall: 309-772-2521
Zone Administrator (MAEDCO): 309-837-4684
View the interactive map: https://gis.wiu.edu/js/ez/
APPLY FOR AN APPLICANT ID NUMBER
An applicant ID number is issued by the Illinois Department of Revenue and is required on your project application. You must be registered with the Illinois Department of Revenue. It can take up to 72 hours to receive this number if you do not already have one. Make sure you have it prior to purchasing materials and filing out the Macomb/Bushnell Enterprise Zone Project Application at City Hall.
1. Go to: https://www.revenue.state.il.us/app/ezci/SessionNotice.html
2. Notice Screen: Read the directions carefully and click "Next"
3. Getting Started: Click "Certificate Applicant" on the left hand side
4. Click "Register Now!" in the green box if you have not registered
5. Applicant Registration: Fill out the applicant registration information and click "Next." Be sure to select the correct Tax ID Type from the drop down menu.
6. Once you have filled out the information your applicant identification number will be sent via email from the Illinois Department of Revenue. This can take up to 72 hours.
TOTAL ESTIMATED COST OF IMPROVEMENTS
Please break out your total estimated cost of improvements into labor and materials for your portion of the project. Please round to the nearest dollar.
If you are the General Contractor, we require the total overall project costs broken out as well as your portion only (this does not include any subcontractor costs). We must also have a list of all subcontractors or companies working on the project.
This will also determine the cost of your project application fee. The cost of the project application fee is based on the total cost of building materials you provide, subject only to $5000 or more.
Building Materials X 0.5% = Fee Amount
Example: $30,000 X 0.5% = $150 Fee
PROJECT APPLICATION FEE
Effective July 01, 2019, all contractors and subcontractors are required to pay and Project Application Fee due at the time of filing a Macomb/Bushnell Enterprise Zone Application. Your application will not be processed until the fee is paid. Therefore, you will not receive enterprise zone incentives.
The project application fee is 0.5% of the total cost of permanently affixed building materials (not to exceed $50,000) and subject only to $5000 or more.
Building Materials X 0.5% = Fee Amount
Example:
Materials: $4,999 (or below) = No Fee
Materials: $30,000 X 0.5% = $150 Fee
Make check payable to Macomb/Bushnell Enterprise Zone and be sure to include the application number on the check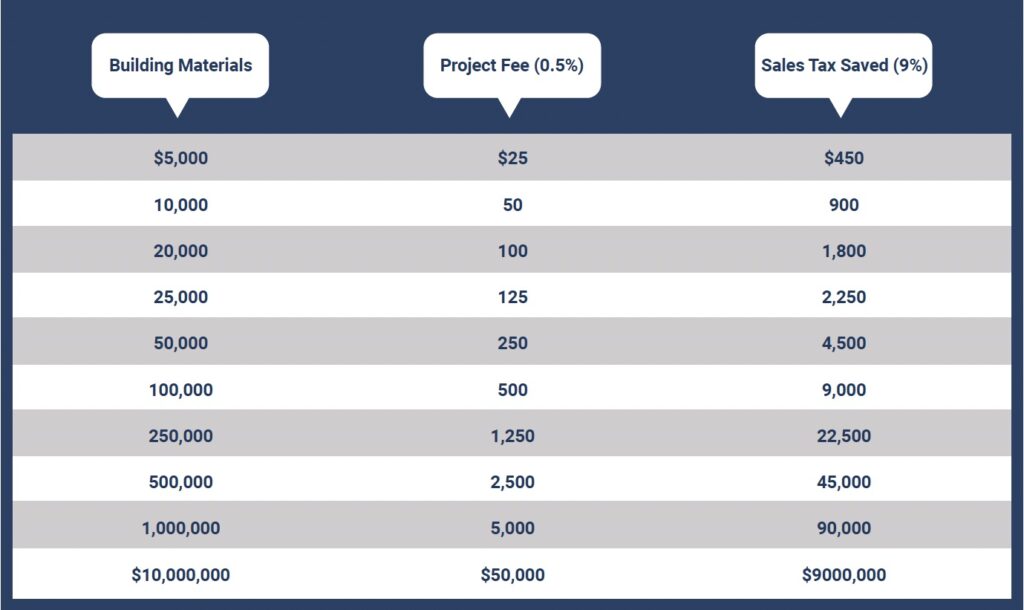 APPLY FOR A BUILDING MATERIALS EXEMPTION CERTIFICATE (BMEC)
If you have all the information above, please visit the corresponding office to file your Enterprise Zone application.
Macomb Projects:
Macomb City Hall Community Development
Second Floor
232 East Jackson Street, Macomb
Bushnell Projects:
Bushnell City Hall
138 East Hail Street, Bushnell
County Projects:
Macomb Area Economic Development Corporation
1406 East Carroll Street, Macomb
NEXT STEPS
Once you submit your application at City Hall and pay your application fee, your application will then be processed by the Zone Administrator's office (MAEDCO). You will receive your Building Materials Exemption Certificate (BMEC) via the email listed on the application from the Illinois Department of Revenue. Be sure to check your spam folder. This can take up to 72 hours to receive. If you do not see your certificate, contact the Zone Administrator. Reminder: you cannot purchase materials prior to obtaining your certificate and you must provide a copy of the BMEC with the retailer to verify the purchase.
OTHER INFORMATION TO KNOW
Any materials purchased before the issuance of certificate will not eligible. Each time materials are purchased, the purchaser must leave a copy with the seller to verify what was purchased, who made the purchase, and what project the purchase was made for.
You must report to the corresponding City Hall or Zone Administration office when your project is completed.
Illinois Law requires all Contractors and Sub-Contractors to file a Building Materials Exemption Report annually at: https://www2.illinois.gov/rev/businesses/incentives/Pages/default.aspx
Scroll down to "Business Incentives Reporting"
Click the red "Click Here To Begin Filing a Report"
Notice Screen: Read the directions carefully and click "Next"
Report Type: Click "BME Certificate Report" on the left hand side
Select your "ID Type" in the yellow box. Fill in your selection. Click "Next"
Continue your report and submit when completed.
Questions? Contact the Zone Administrator at: Macomb Area Economic Development Corporation 309/837-4684